(DISCLAIMER: all names are clickable for relevant stories used to determine whether said guest should be

"REJECTED"

or

"ACCEPTED"

)
Due to unforeseen circumstances (lack of internet connection), the club had to close a bit early this week, so we weren't able to reject as many people as our exclusive club is wont to do. here's to next week.
Glenn Beck (starting at 00:40) - You're back? AGAIN!? Come on, didn't you get enough abuse over losing your sponsors? This week, we saw JUST how much of a sellout punk you are. Since April, you've been ranting and raving about how America has the best health care in the world. I'm guessing these thoughts are bought-and-paid-for by your employer, FOX News. in January of '08, you were then employed by CNN and decided to do an exposé on the health care system from the perspective of your own hemorrhoid surgery. In that piece, you tell about how your surgery went "horribly awry", and how "getting well in this country, could actually... kill you". Just because you have the big foam #1 finger and wear all your favorite team's apparel, sadly, doesn't make your favorite team the #1 team. We AREN'T, in fact, the best health care in the world. According to the World Health Organization's 2000 study (they haven't done it again due to complexity... also, since we haven't had health care reform since then, I doubt the numbers have changed much, if at all, for the better), we come in around 37th place in quality of health care (with most of sometimes-socialized Europe ahead of us). Another fact that you might NOT find so surprising, is that we rank #1 in cost of health care among industrialized nations (#2 among all nations). You, sir, again prove that you are an idiot with no spine and, more than likely, no original thoughts of your own. Why don't you go over next to that dumpster and take a look at this and this, and then, MAYBE, if you apologize nicely, we might let you in in about a year or so. if you try to get in again without apologizing, i foresee another visit to the "excellent" health care system you (now) love so much.
Pamela Pilger - You are a perfect definition of the word, "douchebag". A Jewish man speaks his peace about health care, not pro- or anti-Obama but health care, and you can think of nothing more intelligent to rebut him besides "Heil Hitler!". Really?! You don't have any better ammo than a WWII pro-hate invective that symbolizes the ethnic cleansing of millions of Jews that has absolutely ZERO to do with the topic? It really helps if you know what you are talking about before you publicly make an ass out of yourself. With camera phones being as prevalent as they are nowadays, we all need to think before we speak or act, maybe a little more than we did before, because it will undoubtedly end up on youtube. You should step out of line (since you already WERE out of line) before we have to drag you down the street by your "Israeli Defense Forces" t-shirt. Seriously, WTF?!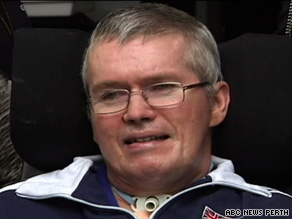 Christian Rossiter - Buddy, I'm proud of you for fighting for control of the one thing that is truly ours... life. I'm a proponent for assisted suicide/euthanasia. if counseling can't change your mind, and you are in pain, terminal, or in your case, trapped in your own body... I say, all the power to you. I wish you the best, and despite the starving thing, I read you are allowing liquid to take pain meds, so why don't you have a beer on the house.
Barney Frank - Barney... You'z one crazy muthafucka. Really! I've been called an asshole a time or two, but I try to shoot straight from the hip as often as I can. That speech impediment of your makes me want to chuckle sometimes, but luckily, you seem smart enough to overcome sounding like the comedic relief for a two-bit comedy/western. I do like you, I like what you say, and I like how you say it (you know what I mean). You put this woman in her place. Democrats fighting for health care reform are trying to be the bigger person, but sometimes that just doesn't work on people whose brains never progressed beyond Freud's anal stage. Yelling over each other isn't working, rationalization isn't working, but apparently "fear-mongering" on the part of the Republicans is. Instead of making a personal attack, you pointed out a lack of, at best, understanding, and at worst, intelligence/education. If that's what it comes to, I think you are the guy to do it, and I'm sure you'll be panned for being "rude", but come on... what other choice do you have when the people are being flash-mob rude themselves. So Barney, I say, "Good on ya". Now, come on in. I got a table waiting for ya.